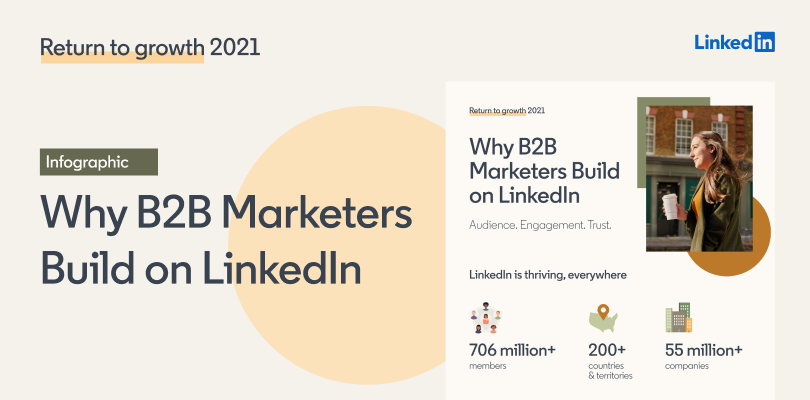 At the outset of 2021, as we reckoned with the ramifications of a challenging year and looked with optimism toward better days ahead, we at LinkedIn set a directive for the coming weeks and months: Return to Growth. With our content, our platform, and our tools, we aimed to help resilient marketers and businesses around the world realize this ambition.
Today, we're excited to share the growth our platform has seen; according to eMarketer, LinkedIn makes up the largest share of U.S. B2B display ad spending in 2021.
Marketers are gravitating toward LinkedIn to fuel growth, and seeing the results:
Our advertising business has grown more than 5x over the past five years as we enable marketers to build trusted relationships with buyers.
LinkedIn is a top-three player in B2B digital advertising, and growing 3x faster than our category.
LinkedIn's advertising business surpassed $1 billion in revenue this quarter for the first time, up 97% year over year.
Advertisers recognize that LinkedIn is viewed as a trusted platform, and now 58 million companies have built their brand communities on LinkedIn.
97% of the Fortune 500 are LinkedIn customers, and 96% use more than one of LinkedIn's enterprise products.
They say a rising tide lifts all boats, and that rings true as LinkedIn's success is buoyed by that of our customers, who constantly inspire us with the ways they creatively use the platform's marketing and advertising tools to connect and engage with members.
If you haven't yet caught the wave, there's still time to hop aboard.
As your organization makes key decisions about where and how to invest confidently for maximum growth and ROI, here is an evidence-based case for why LinkedIn should be a strategic priority in your plans for 2021, 2022, and beyond.

Why B2B Companies Should Lean on LinkedIn Right Now
At a time where companies of all types need to invest where it counts most, the numbers make a strong case for LinkedIn: It works, it's trusted, and it spans the breadth of B2B audience segments.
B2B Marketers Everywhere Rely on LinkedIn, Because It Works
LinkedIn is inhabited by 774+ million members in over 200 countries and territories, more than 55 million companies. (LinkedIn internal data)
Professionals are signing up to join LinkedIn at a rate of nearly 3 new members per second. (LinkedIn internal data)
LinkedIn members interact with Pages more than 1 billion times per month. (LinkedIn internal data)
There are 2.9 million groups on LinkedIn, which include industry and interest communities, company and university alumni groups, and professional associations. (LinkedIn internal data)
In the last 12 months, 96% of B2B marketers used LinkedIn to distribute content. (Content Marketing Institute, July 2020)
80% of B2B marketers put paid behind their content on LinkedIn (Content Marketing Institute, July 2020)
LinkedIn is among the world's top 10 fastest-growing brands. (BrandZ 2019)
As the world's largest online professional network, LinkedIn is inherently B2B-centric. It's where professional relationships are forged, careers are developed, and business is done. As a result, the platform is nearly ubiquitous as a content marketing channel for B2B marketers, and atop the social media chart.
Helping organizations achieve specific objectives is exactly what we aim to do, with our objective-based advertising experience designed to simplify that very thing.
A Trusted and Professional Brand Environment
LinkedIn has been rated as the "#1 most trusted social media platform" by Business Insider for three consecutive years . (Business Insider Digital Trust Report)
Brands were perceived to be "more professional" (92%), "more intelligent" (74%), "higher quality" (59%), and "more respectable" (59%) when their ad was seen on the LinkedIn platform. (Nielsen study)
LinkedIn Ads were more effective at driving BrandLift than other top platforms for both B2B and B2C brands (Nielsen study)
We saw a 55% year-over-year increase in conversations among connections on LinkedIn from March 2019 to March 2020, and a 60% year-over-year increase in content creation over the same span. (LinkedIn internal data)
Sponsored Messaging drives 2x higher open rates and 2x as much engagement compared to traditional email. (LinkedIn internal data)
Strong brands resonate and drive 10–15% lift in short-term sales performance. (LinkedIn internal data)
6.3 million members attended virtual events on LinkedIn following the launch of Events in early 2020. (LinkedIn internal data)
LinkedIn Live streams have increased 89% since March. (LinkedIn internal data)
We're living in a time where accurate and credible information has never been more valuable, nor harder to find. Trust is in peril, the business landscape is in flux, and the stakes are high. LinkedIn offers a setting where people can ground themselves and find reliable insight. Marketers and advertisers on the platform benefit from a "halo effect," meaning that content is perceived in a more positive light because of the surrounding environment.
The 2019 Business Insider Digital Trust report found just a 2% chance for members to post deceptive content on LinkedIn compared to a 42% chance on another top social platform and ranked it No. 1 among social media channels in Legitimacy.
Credible Across Verticals and Industries
In technology, LinkedIn generated 2-5x higher Return On Ad Spend than other social media platforms (Analytic Partners Study)
In financial services, LinkedIn generated 7x more incremental customer sign-ups than display media (Analytic Partners Study)
In education, LinkedIn was 2-4x as effective as other display media (Analytic Partners Study)
The 700+ million members on LinkedIn span a vast array of professions, interests, functions, and career paths. Best of all, these details are readily available through profile information and content engagements, enabling marketers to understand who they should be trying to reach, and what matters to them.
The industry-specific stats above show that B2B marketers are tapping into this potential, driving fantastic results by zeroing in with the right members and resonating through on-point creative.
You can do the same. Find your audience on LinkedIn, learn about them, and achieve your marketing objectives — whatever they might be, OR? – Just Contact Us and we will make it for you!